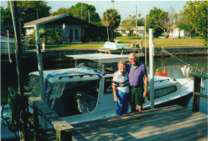 BAHAMAS CRUISE - April 2000
It was 7:15 a.m. and we had just pulled up anchor in Nassau Harbor, having spent the night "on the hook" when my wife cried out "Look over there, there's a body floating in the water!" ---- But wait, I'm way ahead of myself - let's go back to last year when planning our Bahamas trip first took place.

After our cruise last year up the St. John's River in Florida, decided our next big cruise would be to the Bahamas. There were several boaters in our local U.S. Sail & Power Squadron who were interested and so we began meeting in December of 1999 to begin planning -- there was to be a total of 7 boats represented. Shortly thereafter, 2 of the larger boats dropped out so that left one 54', one 48', 2 sailboats 36' & 38', and last, but not least, our 25' Albin (always the smallest in the group).

Our departure date from Angelfish Creek was set for March 21, weather permitting. By March 1, the two sailboats dropped out of the group -- one because of a wedding they had to attend (they would follow later) and one due to illness. That left only three boats remaining out of the original seven.

And so it was on March 9 we left our dock in St. Petersburg on what was to be a "cruise of a lifetime". Less that 3/4 hour later, we turned around and headed back to the dock after discovering our camcorder (less than 30 days old) was not working. A quick trip to Sears produced a new camera and 2 hours later we were once more under way - with a lot less fanfare.

Our trip down Tampa Bay, under the Skyway Bridge and to the anchorage at Longboat Key was slow but uneventful. It seems we're always going against tide and current. At 3:15 p.m. we were serenely anchored when 2 sailboats decided to anchor next to us. Both dropped anchor and did not play out any rode so I felt it best to more lest we hear bumping noises in the dark.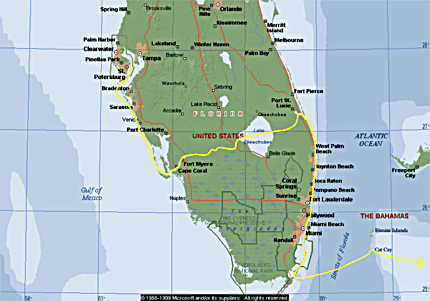 The next morning, we were underway at 7:30 a.m. and aground at 7:35 a.m. After moving the night before I did not make allowance for sandbar that extends into south part of anchorage. We were able to power off and by 7:40 were underway again. After passing through Sarasota Bay, we came upon 2 racing sculls -- sorry to say they won the race. They're fast but we have staying power. We docked at the City of Venice free dock.

By 6:30 a.m. the next day we were underway leaving the beautiful city of Venice behind. We normally then proceed to either Boca Grande or Caya Costa but weather was supposed to turn ugly Sunday so we continued on to the City of Ft. Myers Municipal Marina. The 73-mile trip was a long choppy one with 15+ knot winds on the bow. From Sanibel Island to the city docks is always a challenge as, in my opinion, the Ft. Myers area has the largest number of rude and crazy boaters who give no thought as to wake they are putting out, etc.

After 2 days at the City Marina, we headed up the Caloosahatchee River on March 13 and met a 25' Albin "Casper" from Oregon. They were hoping to get to the Dry Tortugas although weather did not look favorable. Florida Bay can get real nasty in any type of blow.

As we cruised along west of LaBelle, a seaplane came up from behind and landed just in front of us (to one side). He did a couple of "touch & go's" on the river. Amazing - we've never been "waked" by a plane (not really!).

When we arrived at anchorage just past LaBelle, we were met by e-mail buddies, Elaine and Don Howland on their Albin 25 "Short & Sweet". Spent pleasant afternoon checking out each other's boats.

It was cold when we arose at 6:30 but the sun warmed up by 8. Ortona Lock was a bit rough as they open front gate to raise you in lock. Arrived at Moore Haven at 1 p.m. River was completely closed until 6 for bridge construction We docked at city docks and walked downtown, past courthouse and prison and sat around until 4:45 when construction ceased. We were second of eleven in the lock. As they tried to raft up, 2 SeaRays (who seem to be owned by world's worst boaters) let loose their lines from lock sides and began to float loose among other boats. In the excitement, one man fell overboard and everyone yelled for them to shut off their engines. Lockmaster hurt his shoulder in haste to throw them a lifebuoy. Finally, the man got back on his boat all were more or less secured and they opened gate to let water raise us up. We got out of lock at 5:30! Whew! It was comical but could have been disastrous. Young couple in boat in front us in lock had taken first cruise The locking incident really shook them up --he said all he wants is to get back and sleep in his own bed. Probably a good chance for someone to buy his boat cheap! We proceeded on toward a good protected anchorage past Clewiston, which should be easy to find in the dark as it is opposite a boat launch, which we thought, would be well lighted. Unfortunately, we were at the fishing village at Torry Island when we realized we had passed the anchorage. No good anchorage there so we went back and tied up to a commercial tie pole and put out a back anchor. In morning, we found we were only about 100 yards from anchorage and the boat launch (which doesn't have lights).

Hoisted anchor and set right out. At 8:45 we took off across lake to Port Mayaca Lock. Another great sun-shiny day - choppy with 10-15 knots but not bad at all. Stopped at Indiantown to refuel. Owner of a 25' Albin with sail came over to meet us. They are also headed for Bahamas. They go each year at this time for a couple of months. Their Albin has no refrigeration so they eat mainly fish and rice. It appears to be the basic Albin with no extras. Out of marina it is still very windy. Arrived at Corps of Engineers marina at St. Lucie Lock at3 p.m. Ahh!! Shower and walk around lock and campground sure felt good.

March 16
Thursday, March 16 we started right through St. Lucie Lock at 8:15 and out at 8:37. Winds at 20 - 26 knots - rough chop. Much calmer inside ICW again behind Jupiter Island but still strong head wind. Anchored for the night at the Lake Worth Anchorage. Winds died down about 11 p.m. and lake became calm as a millpond.

March 17
March 17 dawned calm and sunny and uneventful until we had to go around a giant cargo ship at Port of Palm Beach, which was backing across channel into the Tropicale berth. We were called on our cell phone by Sapient, one of the large power boats in our "flotilla", advising that it had been too rough at Ft. Myers to go out by Florida Bay so they are following us. They got stuck 24 hours at Moore Haven so are coming across Okeechobee today. At this point, they advised the other large power boat had mechanical problems and our flotilla is now down to only 2 boats. Going up the New River at Fort Lauderdale was so different - the homes are lovely, quaint and beautiful. River is narrow and winding with incredibly big yachts tied along side and coming down river right toward us. Beautiful but a bit scary though it is all "idle speed". The City of Ft. Lauderdale Marina at Cooley's Landing on New River is so beautiful with landscaped walkways, bougainvillea, camellias and flowers lining the walkways under big trees. We walked over bridge to the Ft. Lauderdale River Walk where a big St. Patrick's celebration was going on. We had supper and watched the celebrations for a while.

Saturday, I changed the oil and filters on the boat while my wife went food shopping. Chuck & Carole from "Sapien" arrived last night and said the river was closed for 24 hours at Moore Haven because a concrete girder fell onto the barge and killed two workers. Sitting on the dock today we watched men putting their small fishing boat in at the boat launch. One man stood in the boat, with no lines attached while other was in the car reversing quite fast. Well, that boat slid off the rollers and, it being low tide hit the concrete ramp with a loud bang. The man in the boat had some choice words to say about the boat, the ramp, but not his intelligence. Wonder if he cracked his hull or motor? Rained came down in buckets so we'll stay here till weather improves.

Left Cooley's landing on Tuesday and had an easy 5-hour trip down to Miami. We stopped at Venetian Isles where we dinghied to city dinghy dock and walked couple of blocks to Publix. There were about 20 sailboats at anchor in this good anchorage. We prefer the Marine Stadium anchorage so went on to it. We watched an inflatable dinghy flying around. It has a hang glider type fixed wing mounted above it and took right off and flew around at a high altitude (for a dinghy). Watched it for a while and then went on and anchored at marine amphitheater at 3:50.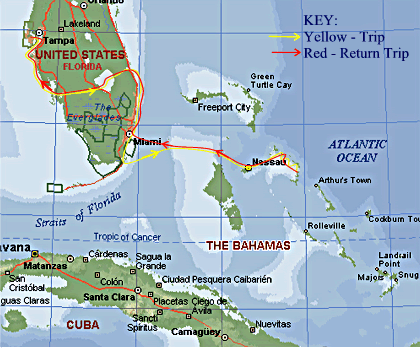 March 22
March 22 and the weather is clear and calm but NE winds in ocean with 7 - 10' swells. Looks like we wait until Saturday or Sunday or longer to cross. We moved boat out toward middle of anchorage to get more wind and less bugs and to give rowers and wave runners more room. Cold front came through about midnight and it was choppy and very windy and noisy to sleep.

Next morning we docked at Boca Chica National Park. Gorgeous sunny day but very windy. There are toilets but no drinking water, showers, garbage cans or electricity and no dogs allowed. But lots of picnic tables, shelters, coconut palms and white sand beach and clean, clear, green water. Rained after supper and very windy.

March 24
Friday, March 24 - still very windy 15-20 knots. We walked around island and saw some real nice sandy beaches on south side. Heard from Sapient who is anchored by Pumpkin Key (by Angel Fish Creek - our jumping off spot for the Bahamas). It was so windy 4 boats there slipped their anchors.
After supper, we heard a loud bang and thought some boys were dropping a coconut to try to break it open. Then we heard whispers of "He can't talk - is he breathing?" We rushed over to find a 13 year old lying on his back - just starting to regain consciousness. His left wrist was badly broken and he kept asking what happened and didn't remember anything. Another boater called 911 and eventually the 911 operator was made aware of where Boca Chita Nat'l Park was and called the park ranger who arrived back at 6:30. His father then took him to the mainland hospital.

Saturday, March 25
Sunny but still very strong NE winds. We headed south for Key Largo. We docked at Paradise Marina (Gilbert's) on Key Largo by Jewfish Creek. It is under new management with a nice cold pool and tiki bar. We're at end of docks around back on quiet lagoon so should enjoy a good sunset.

Sunday, March 26
About 8 a.m., we heard a boater on VHF relay that the Gulf Stream was calm as a millpond. Since weather was now going to worsen on Monday, we contacted Sapien and Gusto (other boats going with us) and it was decided to go across today. Within 20 minutes we were on our way north to Angelfish and the Bahamas! It took 2 hours to get to Angelfish but we knew we could get across to Gun Cay before sunset so away we went.

The ocean was calm and such a beautiful green color that soon changed to brilliant blue of the Gulf Stream and then to a deeper brilliant blue as our depth sounder stopped recording at 357' . Out of radio contact with our other boats until about 4 but sighted Gun Cay at 4:45. Arrived in anchorage at 5:45 and the sun set within half an hour. It was a delightful, easy trip. Worth waiting for calm weather. Weather not sounding good for tomorrow's 12-hour trip to Chubb Cay.

Monday, March 27
Monday, March 27 dawned very windy with small craft warnings and possible showers this afternoon so we told Sapien to go on without us - we'll wait for calm day to go 76 nautical miles to Chubb Cay. Other boat, Gusto left at 3 a.m. The winds really picked up and rains started so we lifted anchor and went across to Cat Cay Marina to spend quiet night at dock. We had been anchored well in a small cove and watched the spray from the breakers crash on other side of Gun Cay - spectacular! Decided to clear customs here at Cat Cay and wait for weather to improve. Seems like the Army "hurry up and wait" - wild 12 hour trips and then days of waiting for weather to calm. Oh well, better safe than sorry. Marina charged $2.25 per ft ($56.25) plus electricity but we still are glad to be out of that noisy chop. Going across cut between Gun and Cat Cay was real interesting as good size waves rolled through the cut. A few days ago we listened to Coast Guard report a sailboat on the rocks in that pass with 2 people in the water. Next Coast Guard report stated 1 person in the water. Wonder if they were rescued and what happened. Listening to VHF is like watching soap operas once a year.

Cleared through customs for $100 (which includes a fishing license) and then customs man said, "that's the tip jar". Amazing. We met a couple from Ft. Myers (and New Hampshire), Lee and Don Bates on 35' sailboat "Sail Inn". Their radio failed on them so we lent them our extra - a handheld VHF until we all get to Nassau where they can buy a new one. We became great friends with this couple & completed the remainder of the cruise with them.

Tuesday, March 28
Wind is really blowing. We walked the beaches along to SW point where we could look out and see the ocean crashing on the rocks. One sailboat "MIMA" with Tom and Stephanie (from Tampa) aboard recorded one gust at 57 mph during thunderstorm during the night. Later in the day when wind & seas calmed a bit, we moved to an anchorage just outside the marina.

Set out across the Great Bahama Banks at 4 a.m. Wednesday after not getting much sleep, as there was an unpleasant chop in the anchorage. It was a bumpy ride with 1 to 2 ft chop hitting us broadside but wasn't bad. Great sunrise about 6:15. At 7 am we've gone 18 miles. The water is 12-15 ft deep and clear turquoise and you can see the bottom. When we passed NW Channel depth went from 20 to 50 to 280 - 480 ft in seconds and then infinity. Water went from turquoise to brilliant blue. Anchored off Chub Cay at 4:45 p.m.

Thursday, March 30
Chub Cay is a private club island with a marina, fuel, store, and restaurant. We went into the marina for diesel fuel and walk-about. After lunch, we dinghied to Crab Cay with Lee and Don of Sail Inn and had nice walk and swim and then they had to tow us back because our dinghy ran out of gas. (see map)

Another Albin 25, "TERN III" came in and anchored next to us. Ted and Geri and 2 daughters Kate (16) and Kara from Conneault, Ohio left Ohio last September and cruised Erie Canal, down Hudson and down the ICW. They are home schooling and love living aboard the boat.

March 31
Wednesday, we left Chubb Cay at 6:50 a.m. Depth recorded 10', 52', 416' and then infinity in seconds!! It was a real rough cruise. Winds were supposed to be light SE and were south at 15 knots so we were hit broadside with 3' waves - occasionally 5'. The Island Woman bobbed along merrily (not so good for Janet's equilibrium)! At one point, the Island Woman's engine faded for a second. That's scary in rough seas with no bottom to anchor to. Don't know if we caught seaweed in propeller or had a bubble in gas line. We'll listen even closer to weather now. Bahamas broadcasts weather each morning at 7 am and we'll request additional weather info from boats that have sideband radios.

You must call the Nassau Harbor Master on the VHF radio and request permission to enter the harbor. Then maneuver around the big cruise ships and watch out for seaplanes that land in harbor. First 2 marinas were full and we got last slip at Nassau Yacht Haven. We pulled into slip and Janet tossed lines to the 2 deck hands and leaped off boat. The deck hands howled with laughter at her speed. They said she leaped off even faster than a cat. (And that is fast).

April 1 - 7
For 8 days we remained in Nassau because of weather. The large cruise ships make this a regular stop with passengers visiting the Straw Market and Atlantis on Paradise Island. Besides the large ships, cruising boats of all sizes and shapes can be found at the several marinas or anchored out at either end of the harbor. To this, add the absence of no wake zones (what are they?), commercial seaplanes landing in the harbor and the myriad of tour boats blaring loud music and you have an interesting harbor.

The Straw Market is a must as is the market by the bridge to Potters Cay where Conch reigns supreme. In the Straw Market you can get straw hats, straw bags, etc. plus T-shirts, hats and other souvenirs. Having good bargaining skills is a plus because everything is negotiable. Conch salad - conch fritters, conch burgers - you name it and they can make it out of conch and all are simply delicious. It's a treat just watching the vendors make your salad to order from shell to plate!

Sidewalks are almost non-existent and with the roads make walking a hazard to your health. Very few cars can be found that don't have dents. Public transportation on little private busses can be as enjoyable as any thrill ride at Disney World. Throughout it all, the native Bahamian is friendly, jovial and fun to talk with.

Atlantis on Paradise Island is beyond description - fantastic - beautiful - unbelievable - words just don't do it justice. There is gambling, of course, but the grounds, lobbies, dining areas (surrounded by walls of the aquarium make the gambling pall by comparison.

Twice we tried to leave Nassau to continue our cruise and twice we were turned back by 4-5' seas and a recorded 47 knot wind gust. Finally we left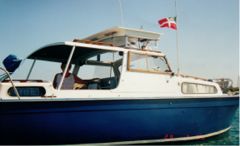 April 8 for Allan's Cay. By the way, there must be several hundred boats in Nassau at any time and there are no pumpouts. In fact, there were none at any of the cays we visited.

Saturday, April 8
After 8 days in Nassau, we awoke to calm harbor so lifted anchors at 7:35 am. Entered anchorage at Allan's Cay 40 miles later at 1:30. Whew! Not as bad as yesterday but quite a trip. Island Woman takes 5-ft waves on nose better than we do. Greeted by Sail Inn, Voyager and Solo (from Clearwater). Dinghied over to beach and saw lots of iguanas which are supposedly largest in the world. The water is so clear with sand bottom. We anchored in boomerang-shaped pond at SE Allan's. Protected from all but North wind. Secluded and beautiful - what we dreamed the Bahamas would be like. Lovely sunset.

April 9
Sunday dawned clear and sunny but about 10 am the predicted cold front blew in. We had already put out 3rd anchor so we're set good. The north winds (only direction with no protection) howled and seas were tremendous outside the Cay - not too bad in here. Next day we decided to lift anchor and re-anchor up near Sail Inn, Solo and Voyager. At least we'll be in closer contact even if it is bouncier. Winds 20 knots all day. Went to explore ruins. Got close to lots of iguanas. Still cold and windy. It is now 15 days out of 33 or almost half of trip we spent at anchor or in marina because of weather!

Tuesday, April 11
Still over 20 knot winds but we're going to try to head south with our sailing companions Solo, Voyager and Sail Inn. Left at 9:21 and arrived at Shroud Cay anchorage at 12:15 after another rough passage. Cold and windy. Rainsqualls came in afternoon. Winds now from East. Re-anchored closer to North and East shoreline and it is calmer. Sun out intermittently. Good calm anchorage until about 8 p.m. then winds a beam for another bouncy night. Island has nice sand beach and many creeks to explore but weather did not permit beach combing or use of dinghy.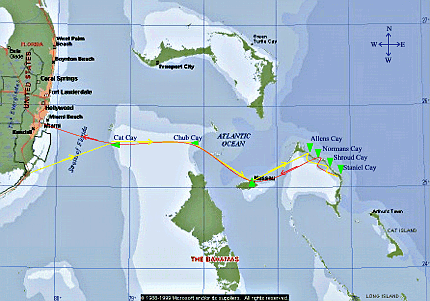 April 12-15
Headed south for Staniel Cay on Wednesday. The Banks had a light chop and trip was pleasant. We arrived at marina around 2 p.m. where we re-fueled, replenished our water supply ($.50 a gallon & real good water) and dropped off trash ($2.50 per bag). Water, electricity and trash removal are 3 items that are at a premium in the islands. All water is R.O. (reverse osmosis); electricity must be generated individually on each island and trash? Well that's a real problem all over - even in the States.

We then cruised over to join Sail Inn, Tern III and a dozen or more boats in the anchorage. The water was smooth and clear with sand bottom for good holding and white sand beaches. Suddenly saw a large Grey pig on the beach (see picture above ) and she was swimming out to meet a dinghy. She is a wild pig looking for handouts and greets all boaters who come ashore.

The next day the sun shone brightly but was still windy. With another couple, we dinghied over to snorkel Thunderball Cave. This is where they filmed the James Bond movie of the same name. Cave was beautiful. Once inside you are able to see due to 3 large openings in the roof of cove letting in sunlight. There are actually 2 entrances on either side of cave. Lots of brilliantly colored fish. This was a delightful experience. Later we visited the settlement on Staniel Cay and ordered some of their famous Bahamian bread, which you need to order a day ahead. Later we snorkeled in anchorage - all in all a great day.

About 3 a.m. tide changed and brought light beam rollers. 'The day dawned clear and sunny but again gusty winds. We dinghied over to Stanley Cay to have lunch with friends. The heavy chop and winds when out of lee made for a rough wet ride and we arrived soaking wet with 6-8" of water in dinghy. Had a great lunch (though no fish was available because seas were too rough for fishing). Served by a cheerful native waitress who declared she would live no where else except on this island. Picked up our Bahamian bread (which was delicious) and a can of butter (yes, a can!). Because the weather had one front following another, we decided to forget going on to Georgetown and the Eleuthera Islands and return home.

On the 15th, we began to head north when we were advised by VHF from another boat that a large band of severe squalls were moving our way. We took their advice and returned to the anchorage. Around 1 p.m. all heck broke loose - rain in buckets and strong winds that had boats in anchorage start their engines in case of dragging anchors. We all breathed easier when it ended and things settled down.

Left Staniel Cay for Norman's Cay at 7:25 a.m. on Sunday with light 10-15 knot winds from SE so trip north is quite good with rollers on port and rear. About 10:30 a rainsquall arrived and winds shifted to NE so rest of ride was bouncy with 3 to 4 ft waves. I watched through front window as one broke over us - solid green water! Anchored in Norman's Cay, which is an old drug runner base (Colombian drug runner Carlos Leder). Wrecked double engine plane still lies in shallows at NE end of anchorage. We explored abandoned buildings (some with old bullet holes still visible) and walked on up road to airport and MacDuffs, which is a famous hamburger, spot. Their blender is powered by a weed eater! Honest! They also have cabins to rent. Back at anchorage we took swim and enjoyed a very quiet evening. Best night's sleep since we left Key Largo!

Monday, we left Norman's Cay at 7:20 a.m. for Nassau. First day in Bahamas that we had no small craft advisory. Calm voyage all the way. Refueled and then anchored in Nassau. A commercial boat called out to us and said we were in their path so we lifted anchor and it took us quite a few tries before we got anchors set again at 3:20. Still sunny with light breeze. Quiet calm night except for fireworks display at Atlantis. (We heard them but didn't get up to watch.)

Now, to continue the story about the body….

Tuesday, April 18
We left anchorage at 7:02 and within 10 minutes Janet spied a body in the water. Thought at first it was a large dog in a life vest but it wasn't. We circled back and I could see it was a black man, fully clothed in a life vest, he appeared to have a gash on the side of his head & was wearing the clothes of a seaman. We tried to interrupt the weather report by BASRA and when they didn't answer, we called Nassau Harbor Control who, in turn, called Bahama Defense Force. They said a Bahama Defense Force boat would be right out and requested we stay at site. We were in middle of channel just east of big cruise ships. While we circled the body, a big freighter came toward us and Janet waved him down so he wouldn't come near us. Then a pilot boat came over and we asked him if he would stay with body. Reply was "I'm a pilot boat - don't have nothin' to do with bodies". Then he called to Bahama Defense Boat that they should come east to where we were. We told pilot boat to stay there and we asked Bahama Harbor Control if we could leave and were granted permission so we waved to Defense Force boat as it arrived at site and we left. Immediately thereafter, in narrowest part of channel by lighthouse, we had to pass the Disney Cruise ship. Whew! A little later, Bahama Defense radioed us to thank us and get more info. He'd have liked us to stay in Nassau and file written report but agreed to get info on the radio - our name, address, phone number and details of "the incident". Needless to say, both us were terribly upset by having found the dead seaman but maybe God guided us there just so the man could be found quickly and returned to his family.

Next, we heard the tanker "Titas" calling the "yellow hulled sailboat heading NW and realized he was calling Sail Inn and was just behind them. With their sail up, they didn't see him. After clearing them and us, he radioed his thanks for our cooperation. Calm day turned about an hour later with 20 to 25 knot winds hitting front port quarter with 5' waves. Another nasty crossing. Good to anchor in small creek between Chub and Crab Cay. Real low tide but we got anchored in 4' and went ashore to call home. Who did we meet on the docks? Amazing Grace - the sailboat we were to meet in Eleuthera for Easter Sunday!! They were delayed coming over due to bad weather and we sat and talked for couple of hours. We feel bad leaving just when they are arriving but it is definitely time for us to go home. They will continue on with sailboat "Decadence" from Madeira Beach. We all went to dinner together and it was a great ending to our Bahamas Cruise.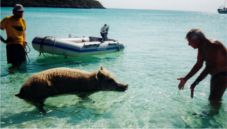 Wednesday, April 19
Awoke to a clear calm day and weather report relayed from a boat with sideband radio predicts light winds today. Sail Inn and Island Woman left anchorage at 7:35 for long trip to Cat Cay. It is 87.4 miles and we won't get to anchorage until about 8 but we should have no problem anchoring by full moon. We can now receive NOA weather and they predict south wind (light) so we should be able to head across the Gulf Stream tomorrow. We never dreamed our dream cruise would be like this but we are so glad we went to the Bahamas and our memories will be of all the good people we met and the lovely islands we shared. Anchored of Cat Cay.

Left anchorage at 7:25 a.m. April 20 to top off fuel tanks at Marina. They were out of diesel and didn't expect any for next few days. Thank goodness Albins are fuel misers and so we started our crossing at 8:20. Seas were smooth but had 3-5 ft rollers. Ride was long but comfortable. Anchored in Miami at 5:10 p.m. Good to be back in the U.S.A.

Spent next two days at Hollywood Marina where we cleared customs by phone. We anchored the next night in another old favorite anchorage - Lake Worth.

Monday, April 24
Left anchorage in sunshine and smooth seas but by early afternoon winds picked up and we had 30 to 40 mph gusts in St. Lucie River. One gust was so hard it just about stopped our forward motion. Tied up at C.O.E. Marina by St. Lucie Lock. Some time later, a sailboat trying to dock alongside us hit us a terrific blow. Man on docks said our boat got 6" narrower and a foot longer but I could find no damage. We have one tough little boat!

Tuesday, April 25
Took Rim Route around Lake Okochobbee because of high winds. Finally got into lee of the land and from here on in its all intercoastal and while we will have to put up with wakes from Sea Rays, sports fishermen and other go-fast boats, weather should not be a problem.

Uneventful trip up inter-coastal and we arrived home on afternoon of Friday, April 28.

Epilog: Both locals and long-time cruisers said they could not remember a Spring with so many fronts and heavy winds. Restaurants ran out of fish, as boats could not get out. Best time to go seems to be late April, May and June (before hurricane season).

Most anchorages provide little or no protection from other than the prevailing winds (south to southeast). Any other direction and you are out in the open.

Because of the Albin's speed, the many long passages seem to be even longer.

A good dinghy (with large tubes) and a fairly good size motor are a must.

Weather is most important. Bahama weather is given once a day (between 7 and 8 a.m. depending on location) and only for that day - there are no long-range forecasts. A single side band (only need a short wave radio) is almost a must so you can get long range forecasts (tomorrow, next day, etc.) from "Herb" up in Canada.

Never arrange to meet other cruisers at a specific date or place. Trying to get there on time could cause you to go out in weather you ordinarily would not.

The Bahama waters are spectacular in color and clarity. The people are great. Now if I only had a bigger and faster boat……