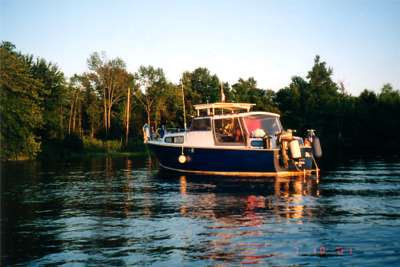 "THE LOOP" (NY - CANADA)
Our Travels by Albin Trawer Summer 2001
THE "LOOP"
The Loop can start anywhere along the way but it also ends where it started. In the cruise of the Island Woman it started and ended at the boat ramp on the Hudson River in the city of the same name, Hudson, New York.

We had made arrangements with a fellow Albin owner, Jay Crawford, to borrow his trailer for this trip. In all the years we have owned our 25' Albin (over 15 years), we have never trailered her. We did have her trailered once by a professional on our Great Circle Cruise but this would be the first time on our own. Normally, she sits at the dock behind our house in St. Petersburg, Florida, occasionally bobbing up and down indicating she's ready to go again.

After our Great Circle trip, we had the urge to back to the Erie Canal and then cruise the Finger Lakes and some of the canals of Canada. We figured this would be a welcome change from our cruise last year to the Bahamas. It was in the Bahamas where the weather kept us in port up to 8 days at a time. Never did we dream weather could effect us as it did in the Erie Canal.

In early June we put the boat on the trailer and for the next week or so it gave us a chance to do repairs and painting that could not be done while the boat was in the water. My towing vehicle is a Chevy 1500 with a 5.7 litre engine. It had no trouble pulling the boat out of the water or towing it the 1300 or so miles up to Hudson, NY. Tropical Storm Allison accompanied us most of the way.

On June 17, the Island Woman slipped into the waters of the mighty Hudson and we immediately tied up at the Hudson Boat Club so we could get provisions, etc. Truck and trailer were left with longtime friends nearby. Finally on June 18, we headed north past Albany, cleared the Federal Lock at Troy and docked for the night in Waterford a little over 6 hours from the time we left. The City of Waterford has free docking, free electricity, water, showers, etc. The folks are friendly and helpful.

Along with one other vessel, we made the first transit through "the flight". The flight consists of 5 locks (#2, 3, 4, 5 & 6) - one right after the other. There is, by the way, no Lock 1. I guess they consider the Federal Lock in Troy as Lock 1 although it is on the Hudson, not the Erie. We continued on until about 1:30 p.m. when we stopped above Lock 8 for the day. It was hot so a swim was in order.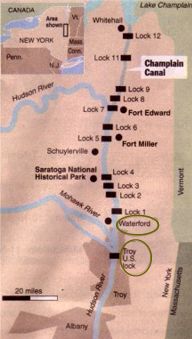 The following day we continued westward stopping for the night in Canajoharie. 7:35 a.m. the next morning saw us on our way to Little Falls. After a stop for fuel and pumpout at the St. Johnsville Marina, we continued on through Locks 15 & 16 at which point the rains came -- in fact it poured. We contacted Lock 17 (which leaks like a sieve and which requires you to lock up on north wall only) and we were advised by the Lockmaster he would get it ready in about 10 minutes. Since it was raining hard, we decided to change into bathing suits and a rain slicker (a lot of wet clothes in a 25' boat has its drawbacks).
Well, 10 minutes turned into 1/2 hour and I called again - finally we entered the lock and waited in the downpour. I thought perhaps he was waiting for another boat - it was cold - we were wet - we were shivering - and there we sat for over 20 minutes more before he finally lowered the gate and started locking us through. Maybe he didn't like me calling him twice - but we finally arrived in Little Falls.

Little Falls is a great stop for the cruising boat. The dock, electricity, waters and showers are free and the town with all its amenities is just a short walk away - a great place to re-supply and many interesting places to see nearby including the Herkimer "Diamond" Mines. Several boats were tied up to the wall when we arrived. Our boat being small, we decided to tie up at a low section - approximately 3 ft below the rest of the wall. At one end are 4 steps leading down to this section which is about 30' long. For us it was perfect - easy on and off with electricity available (electricity only available at about 1/3 of docking area). Because of rain, we decided to stay another day at Little Falls. During the day several other boats tied up including "Fran", a 25' Albin with sail owned by Joann & Stark Ferris who write for the Northeast Waterway Guide.

During the night of June 22 the torrential rains came - especially north of our location but at this point, the canal has a great number of creeks that flow into it. During the night the canal waters rose almost 3 ft which left our boat listing at quite an angle. I had not allowed for the rise in water height, since there is no tide. I stepped off into over 2' of water - feeling my way to the cleats so I could loosen the lines. We then had to move the boat as it would be impossible to get on and off in water that was rapidly approaching 3-ft deep. "Fran" who was tied to the high wall where they had to step up a good 2 ft the day before was now in a position where they had to jump down to the wall to get off the boat. At this point, the "powers to be" closed the canal and all the locks in the area. Those further west remained open because at this point all the tributary waters flowed east - right towards Little Falls and on down to the Hudson.

Finally, on Wednesday June 27 at 6:15 a.m. we left Little Falls - the Canal and locks again open. We were there a total of 6 days. This delay made us re-evaluate our cruise plans and we decided not to go to the Finger Lakes. The next few days we proceeded west, crossed Lake Oneida and made our turn into the Oswego Canal. We made a brief stop in Phoenix the home of the "Bridge House Brats". These delightful children (under the supervision of adults) are there to take your lines as you dock, hook you up to water & electricity if you desire, get you coffee, etc. If you stay overnight (its free), they will be there in the morning to serve you breakfast or help you get underway. The old "Bridge House" is now a museum and one of the "Brats" will be happy to give you a tour of the museum or the whole town if you desire.

On Friday, June 29, we arrived at the terminal wall above Lock 8 in the City of Oswego, NY. Many of the boats that were with us a Little Falls were also tied up here waiting for a weather window to cross Lake Ontario. Due to weather, we spent Saturday, Sunday & Monday at the terminal - enjoying the company of other boaters. At one point, it was decided to top off water tanks and since there was only 1 water faucet, it was necessary to run almost 900 ft of water line to get to all the boats. We got to see the 4th of July parade held on July 1. No fireworks because of the high winds.

On Tuesday, July 3, the weather calmed down and by 6:15 am I was on the VHF radio trying to contact any boat out on the Lake. One boat reported seas of only one foot though the weather service was saying 1-3 ft seas increasing to 2-4 later in the day. When the lock opened at 7 am, we were first in line. Normally, a lock thru would only take 10-12 minutes but 2 boats had to buy permits so we did not clear the lock until 7:42 am. To date, we have traversed 30 locks.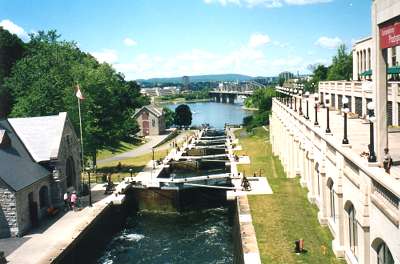 With a forecast of deteriorating weather, we decided to skip Henderson Bay and Sackets Harbor and head straight for Cape Vincent and the beginning of the St. Lawrence River. 49 statute miles later, we pulled into the town dock at Cape Vincent. A good trip and a great town.

The docks at Cape Vincent are free for 48 hours. There is no electric or water at the dock but it is a great little town - everything is nearby and the people are very friendly. Also at this dock were two of the boats we were with at Little Falls. It was here that we heard that "Fran", the 25' Albin with sail, had been sold to a buyer planning to ship her back to Europe to cruise the canals there.

After a pleasant 2-day stay in Cape Vincent, we proceeded on to Clayton, NY. A lively little town, very boater-friendly. They also have one of the finest antique wooden boat museums to be found anywhere. Should you ever visit Clayton, be sure to visit the museum. The night we were there we also enjoyed an outdoor concert. Warning!! Unless the waters are as calm as a pond, do not tie up to the town dock - go to a marina. The dock juts out into unprotected waters and without a doubt the night spent tied up to the dock was the worst night I have spent on a boat. The waves were hitting us broadside and it was miserable.

By 7:50 the next morning we were underway to Alexandria Bay - but first we made a stop at Heart Island, the home of Boldt Castle. This castle lived up to all that had been written about it. Boldt (who owned the Waldorf Astoria hotel) built this magnificent castle, modeled after the castles on the Rhine, for his wife. There are hearts incorporated into the construction everywhere including the island, which he had modified into the shape of a heart. When his wife died, construction immediately ceased and he abandoned the island and the castle never to return. The State of New York is now in the process of restoring it and completing it according to the original plans.
Alexandria Bay was our next stop but we felt the town is much too touristy for our taste and the prices inflated. The town dock, which is free for 4 hours, charges a minimum of $40 for the night. Fuel was close to $2 per gallon and a pumpout $12 per tank. No wonder they have problems with boats discharging into the river! Rather than stay here, we proceeded into Canadian waters and cleared customs at Rockport, Canada. Our first night in Canadian waters was spent at Pecks Marina in Ivy-Lea. Here with the aid of a friendly Canadian boater I replaced my small LP gas tank that I had inadvertently kicked overboard rushing to get into the lock at Oswego. We had planned to spend several days cruising the Thousand Islands, which are truly awesome. Some islands are very small yet they have a house perched atop the rocky outcrop, others are quite large and both the U.S. and Canadian governments have established a number of parks just for boaters. Had the weather cooperated, we would have enjoyed spending a week or so just "nosing" around the beautiful islands.

With a strong west wind and a good-sized chop on the river, we opt to go to Gananoque Municipal Marina rather than anchor out which we normally prefer. Gananoque is a great town - everything is close and we were fortunate to be there when a craft show was being held on the town hall lawn. Next stop Kingston, Ontario.

By arriving in Kingston in late morning, we were able to take a bus tour of the city, visit the local outdoor market and just enjoy the sights. Come evening, we were entertained by a Christian rock band performing in the nearby park. We were now ready to go on to the famous Rideau Canal.

The canal goes back to the early 1800's and was built as a supply line in case of attack from the "south" (meaning the United States). The canal and its locks were completed by the year 1830. With but a couple of exceptions, the locks are the same ones used in 1830 and are hand operated - quite a sight - and a look back into history. They are remarkable and, in my humble opinion, engineering marvels still today. At the first set of locks, Kingston Mills, we purchased our lock and mooring passes. We got season passes for a total of $342.50 Canadian. Seven locks later we tied up at the Upper Brewer Terminal Wall.

The next few days we had a mixture of rain, overcast and sunny skies. The scenery is beautiful. The canal, in fact all the canals, rivers and lakes in the area (including Lake Champlain later in the trip) were experiencing a problem with weeds. Unless the water was 12 ft or more, you would be going through weeds that reached up 8 feet waiting to wrap themselves around your propeller.

Along the way we met John Bartlett who owns a 25' Albin in Ft. Pierce - this trip he was on his home#336699boat called "Turtle". We also passed Full Moon, a 27' Albin coming out of Newboro Lock. Since they were going out as we were entering, we had no chance to talk.

Smith Falls is a "must" stop - especially if you like chocolate. The Hershey factory is located here and they have a fascinating tour of their plant. We came away with more chocolate than we have ever bought even at Halloween. The marina at Smith Falls is called Victoria Basin and is included in your mooring pass. You do have to pay extra for electricity and water - about $5.35 Canadian or $2.75 American. All amenities are nearby including a large supermarket, Canadian Tire (Canada's answer to Wal-Mart), a laundromat, restaurants, etc.

Our next stop was Merrickville - again a town with "everything". We were fortunate as this weekend they were having an antique car show. They had close to 150 cars of all vintages. As a special bonus, this same weekend they had a pottery show called "1001 Pots". The live pottery demonstrations' showing the skill of these artists was fascinating. Like a number of other days, weather started sunny and warm, turned cold and windy and then back to sunny and warm all in the same day.

In Canada, the locks open anywhere from 8 a.m. on. Merrickville opened their lock at 8:30 a.m. Even though there were more boats on upper side, the lockmaster decided to lock up first. He had one boat below but he had to go wake them up first! It was not until 9:25 that he started to lock them up and it was after 10 a.m. when we finally started locking down (3 locks in a row) and almost 11 a.m. before we came out of last lock.

Later that morning as we were in Lock 18, I looked down the river and saw 2 Albin 27's heading our way. As soon as they tied up to the lock wall I recognized Dennis and Esther Brucknell on their "Sadie B". Traveling with them was the Albin 27 "Polaris". Rafting up with Dennis and Esther was a delight. Dennis loaned us his charts of the Ottawa River and St. Lawrence - we'll return them when we see them in Florida later this year. Esther, on the spur of the moment, fixed us a delicious lunch and it was with much regret that shortly we had to more on. They were on their way south to Merrickville while we were on our way north to Ottawa.

July 17 found us tied up to the wall in the heart of Ottawa. So far we now have gone through 67 locks only 34 left to go. We were just 8 locks away from completing the Rideau and entering the Ottawa River. The 8 locks are a flight of 8 - one lock right after the other. Ottawa is a beautiful city. At the Parliament building we witnessed the pageantry of the Changing of the Guard. The outdoor market place offered everything from fresh fruits and vegetables to fresh fish, baked goods, clothing, etc. In the evening we were entertained by a jazz concert in a park across the canal from where we were tied up.

Leaving Ottawa, we cleared the flight of 8 and for the first time in over a month, we anchored out between Upper and Lower Duck Islands. It sure felt great to swing at anchor. We had stowed the dinghy at Kingston because we would have been charged almost half again as much for Lock and Mooring Passes. So while at the wall in Ottawa, we had again inflated the dinghy so as to have a means to get our dog ashore.

Chateau Montebello, according to all cruising guides is a stop everyone should make. It is billed as the world's largest log cabin and caters to the well to do. With this in mind, I expected a higher than normal rate, but when they said $2.05 per foot with a minimum of $75, I said thanks but no thanks, filled our water tank and left. We anchored in a nearby cove for the night.

At the Carillon Lock (79' lift or drop), we encountered for the first time a floating dock inside the lock. Normally, the larger boats tie up to the dock and all other boats raft up. We were the last ones in and our aft just cleared the sill. We have only been in one lock taller than this and that is the one at Bay Springs with a height of 84'. You feel like you are in a canyon.

One of my favorite stops was at St. Anne de Bellevue just below the Carillon Lock. It reminded me of Annapolis and the market area. With boats tied up to both walls, there was a continuous parade of local boats up and down the canal. A lot of good natured banter (in French so we couldn't understand anything) plus a constant throng of people enjoying a stroll along the terminal walls, eyeing the boats or heading for their favorite restaurant of which there was a multitude.

The lock at Catherine is the first lock we came to run by the St. Lawrence Seaway. It caters mostly to commercial traffic. There is a $20 charge for transit -either Canadian - or U.S. (obviously, if you pay Canadian it amounts to about $12 U.S.) The locks do not use VHF and you must pull up to a dock and then phone the lockmaster from a telephone provided. It was at this lock I saw the demise of my dinghy.

The dock you tie up to in order to phone the lockmaster was a floating one in the shape of an "L". There was a very strong gusty wind that came down the river hitting the short arm of the "L". My intention was to come up beside the short dock and then turn and tie up along the longer segment behind another boat. All went well until I started to make my turn -- a gust of wind hit the boat broadside and the dinghy caught the bitter end of the short dock which was aluminum with a jagged edge - so much for the dinghy - a total loss. Thank goodness for Boat U.S. Insurance.
The St. Lawrence at this point runs at about 2 knots so our trip down to Sorel and the entrance to the Richelieu Canal was fast and smooth. Having just done over 9 mph entering the Richelieu and then seeing our speed go down to 5 1/2 mph was quite a shock. We have now locked through 79 times.

The trip down the Richelieu and Chambley Canals was interesting - especially the French women with their T-back bathing suits. Each night we tied up at a lock wall and when possible enjoyed a nice meal at a local eatery. While we met a number of boats, conversation was scarce as French is spoken here.
We did meet up with Roger Arsenault of Quebec. His 25' Albin with sail was in excellent condition and we chatted for a while before he headed north and we proceeded south.

The afternoon of July 26 found us clearing U.S. Customs a Rouses Point, New York. We took a slip at Lighthouse Marina and performed the dirty task of changing oil and all the filters. Also tried to locate a used dinghy so we could anchor out and enjoy Lake Champlain. Lo and behold, there was a notice for a used dinghy on the marina bulletin board and I bought same even if it was a bit old and PVC rather than Halpin but we had to have something since Lake Champlain looked like a picture-perfect cruising ground.

In Florida and along both the west and east coasts when you go aground, you can normally power off through the mud and sand - not so in Lake Champlain. Leaving the marina the next morning I got confused (there are two marinas side by side and two sets of markers) and ran aground. It only takes a foot or two out of channel to put you on the rocks. I should have backed off but instead tried to power off -- all I did was get stuck a little harder. The dock master must have been watching for in no time he was in a dinghy pulling and tugging trying to get us off. The sounds were horrible - it seemed like our keel was being mauled. After some pulls this way and that we were back in the channel and on our way. Immediately Janet wanted a check of the bilge to see if we would soon be swimming but all seemed well. As soon as we anchored for the day in a nice quiet cove, I was over the side looking for damage. I could see none. A closer inspection would have to wait until we put the boat back on the trailer.

Lake Champlain has numerous protected and beautiful anchorages both on New York and Vermont sides. In Peloits Bay we were joined by another Albin 25 sailboat May III and chatted a while with Bernard who graciously showed us improvements he had made to his boat.

It was in Peloits Bay that I finally gave up on getting the dinghy motor started. I took the carburetor off, cleaned it, etc. and still no luck - so rowing ashore became the order of the day. This is also when I noticed the oarlocks were separating from the dinghy tubes even though I had re-glued them back at Lighthouse Marina.

Next stop Plattsburg Boat Basin. As with the other marinas and anchorages, weeds were everywhere. Even with 9 ft under the keel the weeds reached the surface. The marina is a busy and friendly one. Boats come from all over New York and Vermont to tie up so they can go to the "Naked Turtle" marina restaurant. After eating there, we understand why they come - the ribs were fabulous. Since we were running short on supplies and there was no store near, we asked if we could buy some hamburger patties. We bought 4 of the biggest, most delicious burgers we have even eaten. The meat was hard frozen so it kept in our refrigerator until we were ready to put them on the grill.

At the marina, I again tried to get the motor started. I know it was not getting fuel so off came the carburetor again and checked everything and then as I turned to get some carburetor cleaner my big foot kicked the bowl and fuel pump (one unit) into the drink. In 9 ft of weed choked water, I made no attempt to retrieve it. So much for the dinghy motor until we get home.

Valcour Island (a New York State Park), Mallets Bay, Vermont, Willsboro Bay - all great anchorages. We did get in a number of short swims - lake temp 68 degrees - and enjoyed spectacular scenery. New York State provides a free pumpout by the boat ramp in Willsboro Bay.

Our next stop was Kingsland Bay in Vermont. A well-protected anchorage. Here we were visited by Vermont State Police doing safety checks and also checking to make sure your head conformed to State regulations. Most boats were boarded - ours they just pulled alongside, chatted a while and I responded to their questions regarding head, navigation lights, horn, etc. Very pleasant and very informative. We passed with flying colors. It was the State Police who suggested an anchorage at Cole Island. Winds the next day were to be out of the south (prevailing wind direction) at 15-25 knots with 3 ft seas. Seas on Lake Champlain come so close together it feels like you're going over a boat's wake so we moved across the river to Cole Island. Again, this anchorage was choked with weeds.

After dinner, a sailboat approached and hailed us - it was Peter McNaul of Vermont. I had spoken to him months before when he was contemplating buying an Albin 25. He had heard we were in the area and by chance talked to the same State Police officers we had spoken with and they advised where we might be found. Rafting up, we had a good chat. Peter has basically rebuilt his Albin, freely admitting he will never get back even a portion of his investment. Among numerous upgrades is a new engine, complete replacement of all the wood in the boat (bulkheads, cabinets, etc.), awlgrip both outside and inside including the front cabin and the list goes on and on.

Luckily Janet, when in for a swim found one of our oars complete with oarlock floating away. So much for rowing and without a motor our only alternative was paddling the darn dinghy like an oversize canoe. Around 11:30 p.m. the winds came up as predicted and it started to get quite bumpy in the anchorage. All I could think about was how was I going to get our dog ashore in the morning. If worse came to worse, I could let out all the line I had on board and let the dinghy drift towards shore and then haul it back in again. We could not let the boat drift back any further because of the darn weeds. At about 5 a.m. Janet woke me as the winds had temporarily died down so we quickly took the dog and paddled to shore. By 5:35 we were back on board and underway. Our next port of call was Westport, NY.

Like so many towns along the rivers and canals, Westport has done a fantastic job fixing up the waterfront. But again, like so many towns, the downtown boasts antique shops but no food stores. Also, the walls that you tie up to are very high. At Ft. Edwards it was almost impossible to get off the boat due to the height of the wall. For those with larger craft, it is ideal with free dockage, water and electricity.

As we headed toward Mechanicville (also a town with high tie-up walls), we met up with John King and his wife on "Latitude" a beautiful Albin 25 with a hard top extending all the way back to the rear cabin. He also had the boat painted with awlgrip and it looked great.

Locking through and watching other boaters lock through can be very entertaining. One lock we watched a pontoon boat called Lady Bug with 4 women aboard start to come out of the lock sideways, then backward, then sort of sideways and finally bow first. Though they went from one side to other and then out of lock, they waved cheerily and from their expressions didn't have a care in the world. Maybe "Miller Time" was a little early that day.

August 4 saw us tied up at Waterford, right where we started our canal trip almost 8 weeks earlier. Two days later after a pleasant stay at the friendly Coxsackie Boat Club and after a very dense fog lifted from the river, we approached the ramp at Hudson, NY. Getting the boat out of the river was much harder than putting it in. Thank goodness a friend from Coxsackie (just north of Hudson on opposite bank) had accompanied us as Jan and I would never have been able to accomplish taking it out alone. The current was such that I could not drive the boat onto the trailer. No matter how I tried, the stern would be downstream before the bow settled in the trailer guide-ons. Using lines and boat hooks, it took all we had to keep the boat lined up so I could attach the hook to bow eye and crank it onto the trailer. Finally it was secured. Had no problem pulling it up the ramp and as soon as I could I jumped out to see what damage I had done to the keel by my grounding up at Rouses Point. Much to my amazement, and in spite of the awful grinding noises as the boat was pulled off the rocks, only some paint was missing. What a great boat - and what a great trip!

We cruised a little under 1,000 statute miles and went through 101 locks. We are "locked out". We went through small and large locks, hand-cranked locks, locks with lines, locks with cables, locks with floating docks, locks with only a 3' lift and a lock with a 79' lift. One final bit of trivia when you add up each lock and how many feet you either went up or down, you come up with a staggering 1,519 combined feet!